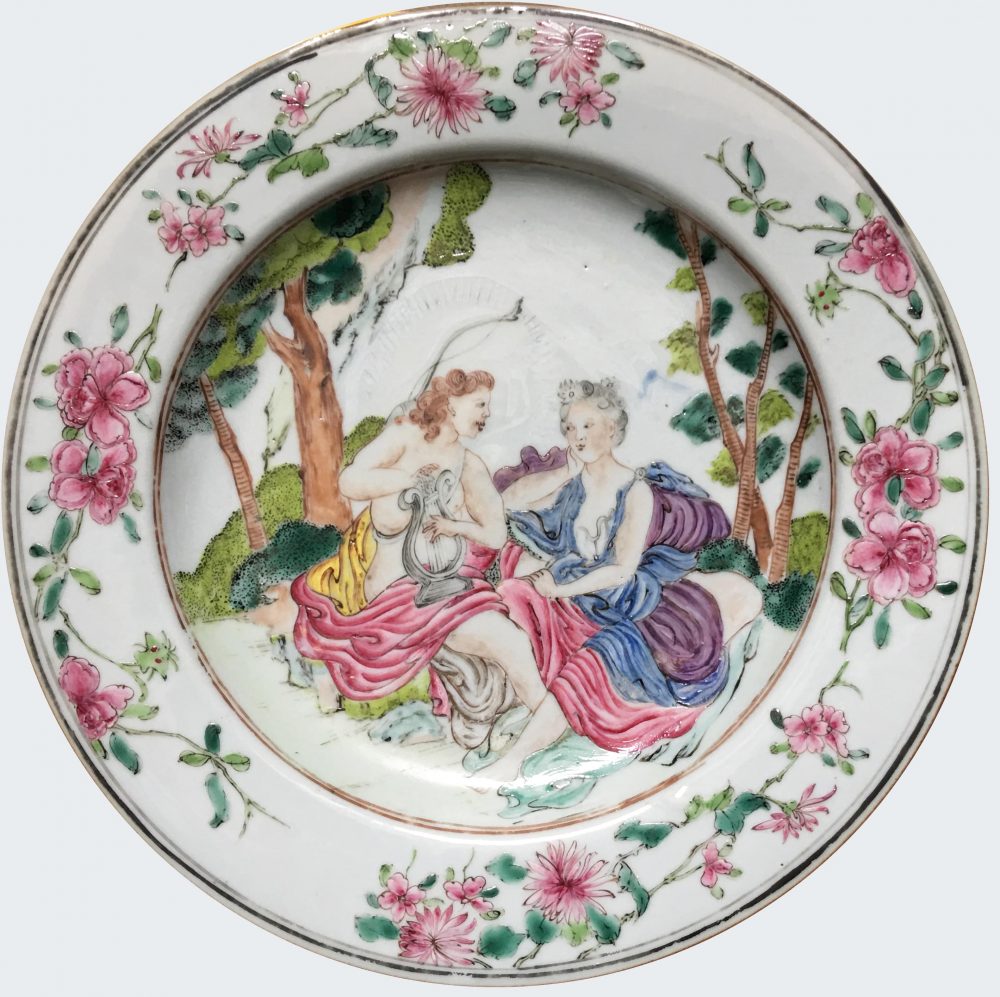 A Chinese famille rose mythological plate. Yongzheng period.
Depicting Apollo playing his lyre, seated beside a nymph or Diana, on a rock in a hilly grass field with trees in the background, the everted rim with finely painted sprays of peonies.
Country:

China

Period :

Yongzheng period (1723-1735), circa 1735

Material:

Porcelain

Dimension:

8.85 in. (22.5 cm)

Reference :

B339

Status:

sold
Related works
François & Nicole Hervouët consider this model in the category "Rs" (as increasingly rare") in La porcelaine des Compagnie des Indes à décor occidental (p. 307, fig. 13.62). They had seen it only two or three times in their life. We have repertoried 7 others plates of this model.
For a plate with this pattern very recently sold, see Christie's NYC, 21 january 2016, lot 74 (sold 7.500 USD), provenance : Christie's Amsterdam, may 1999, lot 413).
Another one, from the collection of the Dr Bodo Slingenberg, was sold at Christie's Amsterdam (29 mars 2001, lot 470).
For a dish with this pattern, see Fraysse & Associés (Paris), 11 november 2011, lot 182 (sold 8.000 euros).
For another plate, see Sotheby's London, Fine Chinese Export Porcelain from the Collection of Angelo Castello Branco Cerqueira Caldas, 8 may 1990, lot 232.
Another plate, from the Antique Porcelain Company (NYC), illustrated in the book of Francois & Nicole Hervouët, La porcelaine des Compagnie des Indes à décor occidental, Paris, 1986, p. 307, fig. 13.62 (in full page), was sold at Sotheby's Monaco (Porcelaine de Chine à décor occidental – Collection François Hervouët, 22 janvier 1987, lot 1677). Sotheby's considered this plate as "very rare".
A plate with this pattern, from the Ionides Bequest, is in the collection of the British Museum (accession number 1963,0422.22). It was included in the exhibition The China Trade (Royal pavilion, Brighton, 1986, no. 122). The subject is describe as Daphne and Apollo.
Another plate is is in the collection of the Zeeuws Museum (Middelburg) and illustrated by Scheurleer in Chine de Commande (pl. 224).
Notice
The scene shows Apollo, son of the highest Greek god, Zeus, who is clearly identified by the lyre with which he won several musical contests among the immortals. Apollo was notorious for his amorous pursuits, but the lady depicted on this plate is not clearly identified. It has been suggested that she represents Daphne (The China Trade, Royal pavilion, Brighton, 1986, no. 122), but the intimate pose of the couple would seem to speak against this identification since Daphne was one of Apollo's great loves which, however, he failed to conquer. Otherwise, we can probably see a bow behind them, so we suggest that the lady is Diana.