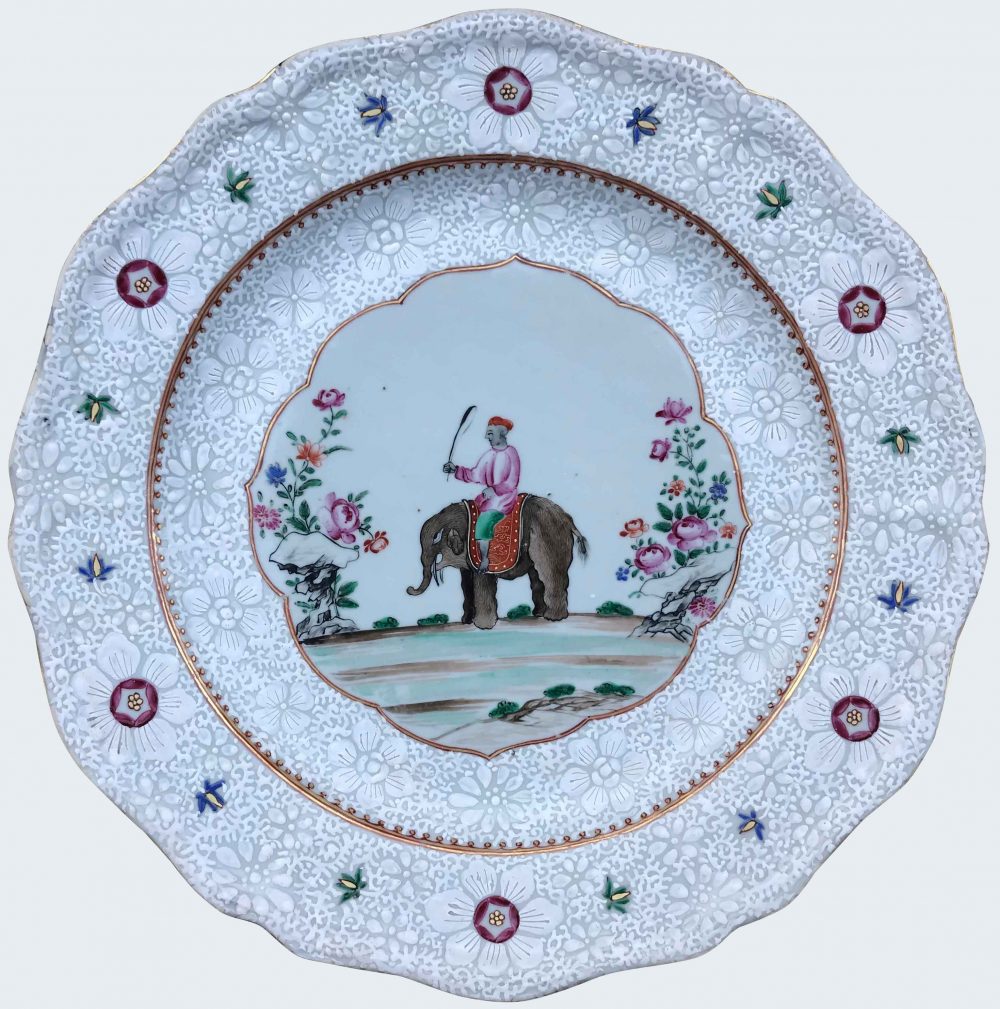 A Chinese famille rose charger decorated with elephant and mahout for the Indian market. Qianlong period.
Of scalloped form with bianco-sopra-bianco floral ground, decorated in famille rose enamels and gold, with lotus flowers and buds on the rim, narrow bands and dots at the well, central scene within a cartouche of a mahout astride an elephant amongst rocks, flowers, and shrubs.
Country:

China

Period :

Qianlong (1735-1795), circa 1760

Material:

Porcelain

Dimension:

12.20 in. (31.5 cm)

Reference :

B676

Status:

sold
Related works
Identical examples are illustrated in :
Christiaan J. A. Jorg, Chinese Porcelain in the Collection of the Rijksmuseum Amsterdam, The Ming and Qing Dynasties, The Rijksmuseum, 1997, 296, plate 348.
Forbes & Crosby, Yang-ts'ai, the foreign colors : Rose porcelains of the Ch'ing dynasty (February 12 through June 27, 1982), no. 78.
Rose Kerr, Luisa Mengoni, Ming Wilson, Chinese Export Ceramics, V&A Publishing, 2011, pl. 165.
Michel Beurdeley, China Trade Porcelain, 1962, cat. 81.
Catherine Brawer, Chinese Export Porcelain from the Ethel Liebman and Arthur L. Liebman Porcelain Collection, 1992, no. 88.
Howard & Ayers, China for the West, London and New York, 1978, vol. II., no. 478.
Hervouët & Bruneau, La porcelaine de la compagnie des indes à décor occidental, Paris, 1986, nos. 4.31 – 4.32.
Elinor Gordon, Collecting Chinese Export Porcelain, 1977, pl. 71.
Thomas V. Litzenburg Jr., Chinese Export Porcelain in the Reeves Center Collection at Washington and Lee University, London 2003, 67, plate 50 (for a broken plate).
For a large oval charger, see Sotheby's NYC, Chinese Export Porcelain from the private collection of Elinor Gordon, 23 january 2010, lot 268 (sold 8.125 USD).
For a pair of plates of this pattern, see Christie's NYC, Chinese Export Art, 18 January 2017, lot 415 (sold 3.500 USD).
Notice
The mahout and his pachyderm exemplify how historical themes revolve. Centuries ago, Britain solidified its world trade dominance, adding the Indian subcontinent, as celebrated in this plate created by Chinese craftsmen, probably for families of British merchants in India. In 1757, after the British victory at Plassey, the East India Company found itself ruling over the country. Warren Hastings (1732-1818), the first Governor-General of Bengal (1773-1785), introduced British rule and tried to acquaint Great Britain with India's culture. The value of elephants in local culture, evident in iconic images of them used throughout history in India's art, is celebrated in these porcelains.
Three services of Chinese export porcelain were made with variations of the design. Most are decorated in opaque enamels, with the most prominent a thick opaque white enamel (biano sopra biano). The charger shown here is from the earliest and most carefully painted service. The distinctive background effect was obtained by applying thick white enamel over a white ground. A similar technique was employed on Italian maiolica and English delftware. Originally intended for the Indian market, services with this decoration eventually found their way to Europe.