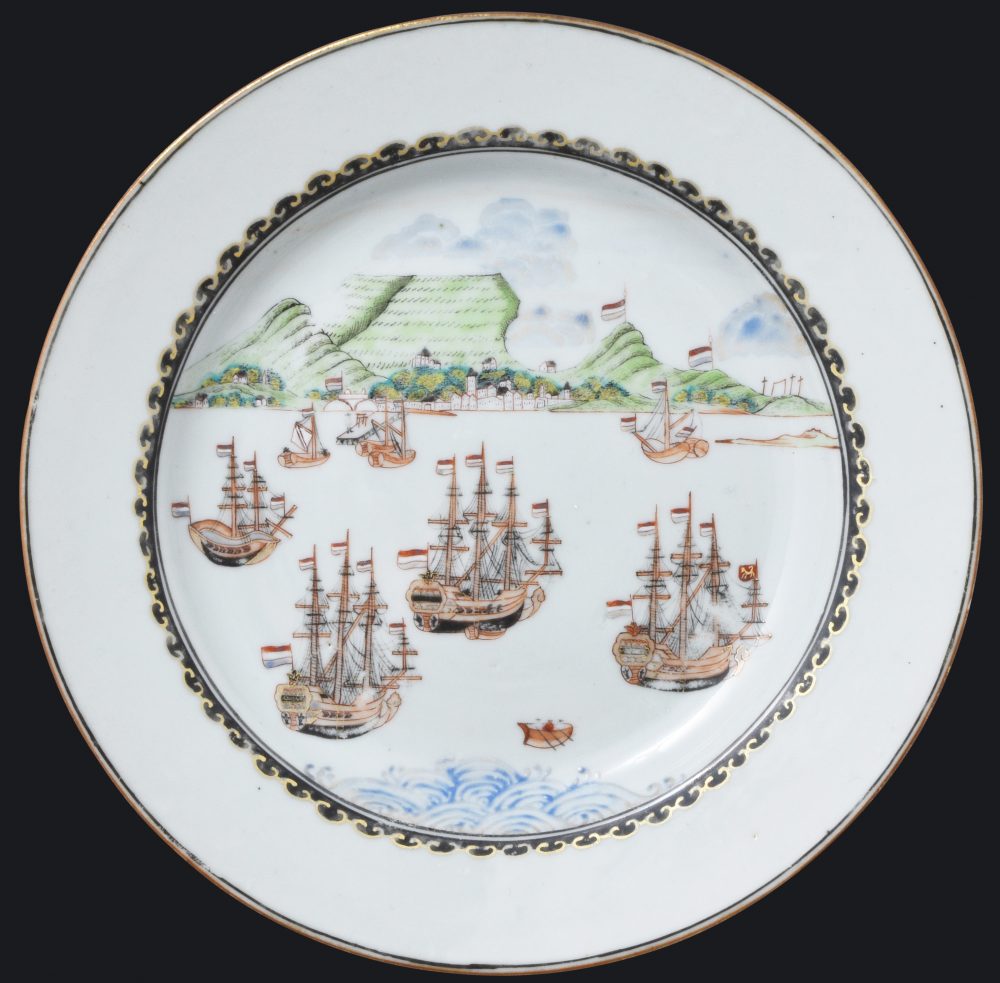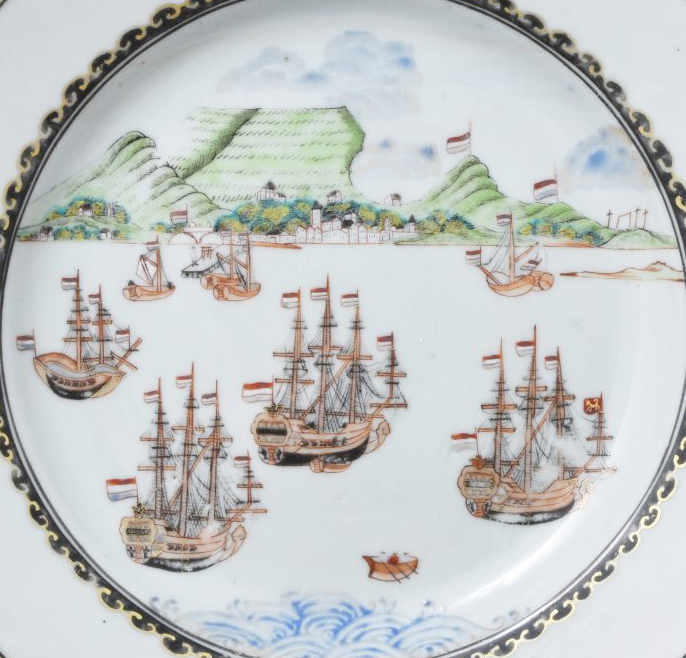 A Chinese Export Porcelain 'Cape of Good Hope" plate for the Dutch market. Qianlong period
Decorated in famille rose enamels, depicting a scene with four three-masted ships with the Dutch flag anchored at Table Mountain Bay in Cape Town, South Africa, A few people are on a boat heading to the port.
Country:

China

Period :

Qianlong (1735-1795), circa 1740

Material:

Porcelain

Dimension:

8.66 in. (23 cm)

Reference :

C395

Status:

sold
Related works
One plate was in the Alves Collection, published by F. & P. Alves in From East To West The Quest For Chinese Export Porcelain With Western Themes (1965-1815). The plate, former Peter H.B. Frelinghuysen Jr. Collection, sold at Christie's NYC, 24 january 2012, lot 38).
Another plates are in the Metropolitan Museum of Art, NYC (former Helena Woolworth McCann Collection), in the Rijkmuseum, Amsterdam (published by D. F. Lunsingh Scheurleer in Chinese Export Porcelain: Chine de Commande, 1974, no. 85, in the Victoria & Albert Museum, in the Iziko Museum of Cape Town, in the Peabody Essex Museum (Salem, USA), in the Groninger Museum, or in the Renato de Albuquerque Collection (Maria Antónia Pinto de Matos, The RA Collection of Chinese Ceramics: A Collector's Vision, TII, 2011, no. 345).
Notice
Severals versions were made with different bordures on the rim, all of them shows a clear Dutch influence in the drawing. The colony of the Cape is here depicted with great detail showing rows of houses along the shore. The typical clouds are depicted at the top of Table Mountain. The fine detail in the representation of the ships, including the rigging as well as the perspective of the scene, suggest a Western source of inspiration might have been used. The wave are shown as in a Delft style.
In 1652, Jan van Riebeeck established a VOC trading post at the Cape of Good Hope, at the base of Table Mountain. Cape Town developed swiftly and became an important port of call on the VOC trading route between Holland and Batavia (Jakarta), providing vessels with supplied of fresh food and water, repair facilities, care for the sick and the exchange of information and mail. This place, long known to the Portuguese, was also a stopping point for other European ships travelling to Canton, being halfway through the six-month voyage.