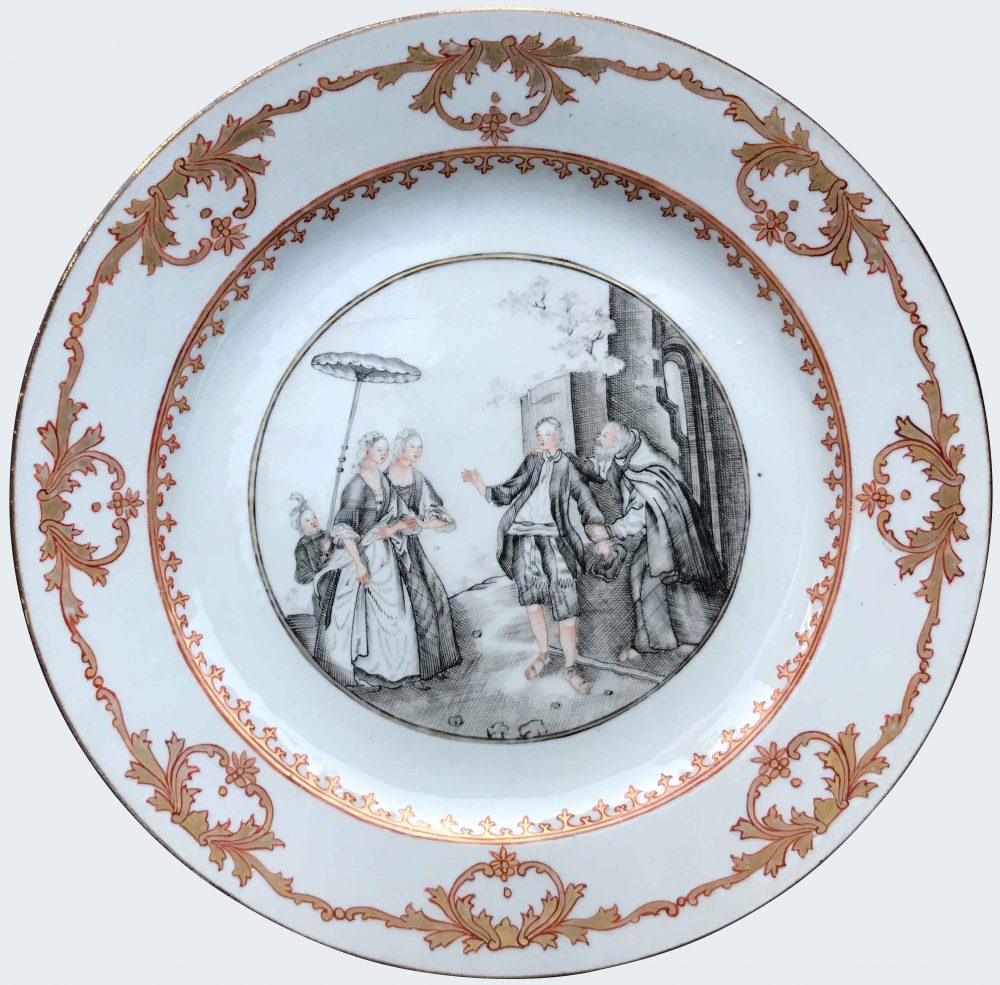 A Chinese "en grisaille" plate decorated after the painting "Les Oies de Frère Philippe" by Nicolas Lancret. Qianlong period.
Decorated en grisaille and in flesh tones and gilt, with narrow bands and continuous border of garlands on the rim, spearheads at the well, central scene of an old man and a young boy observing two women accompanied by a servant girl holding a parasol.
Country:

China

Period :

Qianlong (1735-1795), circa 1745-1755

Material:

Porcelaine

Dimension:

8.66 in. (23 cm)

Reference :

B643

Status:

sold
Related works
An identical plate with the same bordure is in the collection of the Reeves Center Collection at Washington and Lee University and illustrated by Thomas V. Litzenburg, Jr in Chinese Export Porcelain in the Reeves Center Collection at Washington and Lee University (2003, p. 184, no. 180)
Another plate, from the collection of Mr. and Mrs. Rafi Y. Mottahedeh, is illustrated by Howard and Ayers in China for the West – Chinese Porcelain and other Decorative Arts for Export, vol. I, 1978, no. 345.
Another plates are illustrated by Brawer in Chinese Export Porcelain from the Ethel Liebman and Arthur L. Liebman Porcelain Collection, 1992, no. 83 ; by Hervouët & Bruneau in La porcelaine des Compagnie des Indes à Décor Occidental (Paris, 1986, fig. 9.13) ; by Scheurleer in Chinese Export Porcelain – Chine de Commande (1974, Pl. 217-218). One is in the collections of the Victoria and Albert Museum (London).
The decoration "en grisaille" is also known with a three others bordures. For one of them, see Maria Antonia Pinto de Matos & Jorge Welsh Research & Publishing in  The RA Collection of Chinese Ceramics – A Collector's Vision, TII, no. 329.
This decoration is also known in polychromie. A plate is in the collection of the Metropolitan Museum (NYC, access number 2016.114).
Notice
This plate depicts a tale from a famous collection of stories by a seventeenth-century French author, Jean de La Fontaine (1684-1755). The story concerns a young man encountering women for the first time, as seen here, and it served as the subject of a painting by Nicolas Lancret, now in the Metropolitan Museum of Art (see 2004.86), Les oies de Frères Philippe (The Geese of Brother Philippe).
The painting of Lancret was engraving by Nicolas de Larmessin III (1684-1755) and the story was inspired by Giovanni Boccaccio (1313-1375). In the introduction to the "Fourth Day" of The Decameron, Boccaccio recounts the tale of Filippo Balducci, a reclusive widower who takes his young son to Florence. When they chance upon a company of pretty women, the son asks about them. Fillipo replies that they are "an ill thing". His curiosity far from satisfied, the young man then inquiries as to their name. The father, hoping to dampen his son's interest, evasively replies that they "are called green geese". The son innocently responds "Father mine, I pray you get me one of these green geese". According to Singleton, the little known expression "green geese" conveys a salacious connotation which would have been lost on the naïve son. When used by Filippo to signify the "pretty and well dressed young women", papere (fem. pl. Italian for "geese"), probably refers to both their youthful manner and their sexual appetites.
The plate faithfully reproduces Lancret's composition, and it reflects the adoption of European images by Chinese potters in order to appeal to foreign markets.