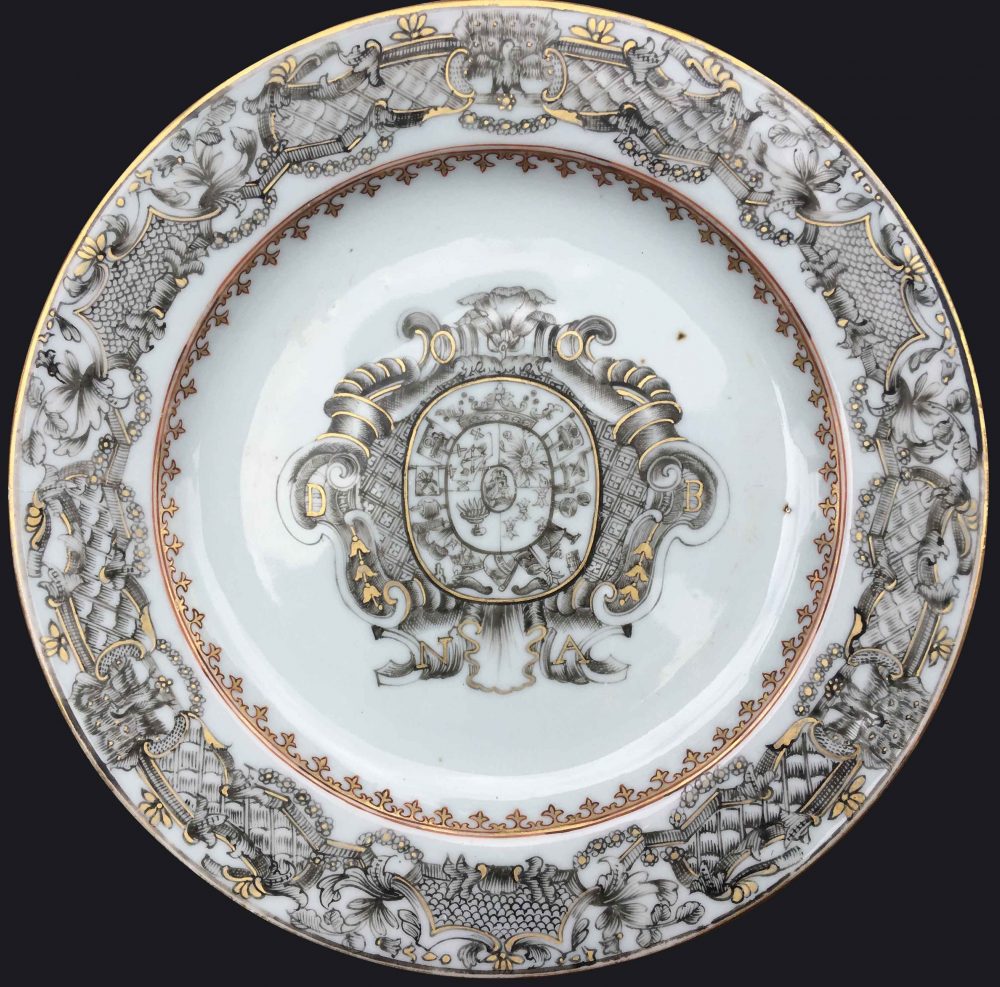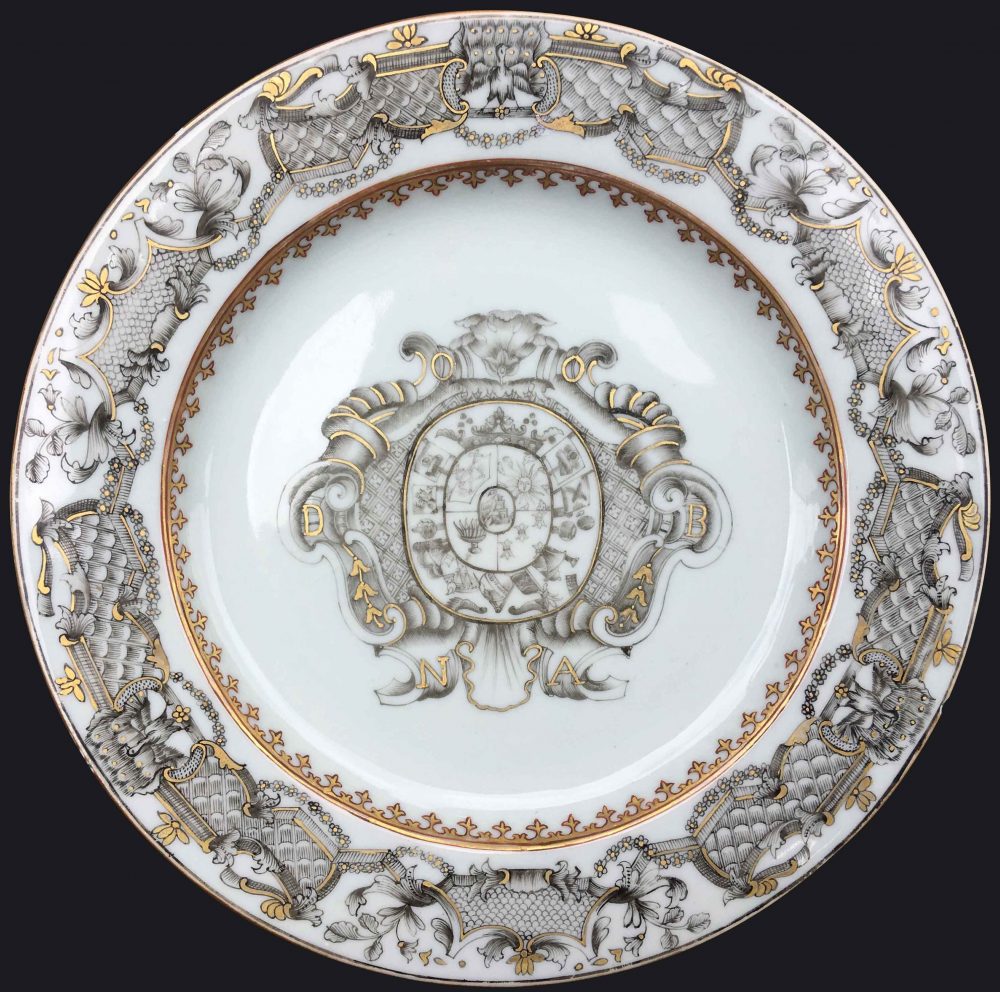 A Chinese "en grisaille" pair of armorial plates for the Spanish market. Qianlong period.
Painted in the centre with the coat-of-arms of José de Ovando y Solís, 1st Marquis of Ovando (1693-1755), which has a marquis coronet as a crest and surrounded by an elaborate diamond trelliswork and framed by rococo scrolls and the letters OBAN-DO in gold. The en grisaille decoration (Encre-de-Chine) on the rim, with gold highlights, is based on border designs in the style of the royal Vienna porcelain factory that was founded in 1717 by Claudius Du Paquier.
Country:

China

Period :

Qianlong (1736-1795), circa 1750

Material:

Porcelain

Dimension:

9. in. (23 cm)

Reference :

B438

Status:

sold
Related works
Jorge Welsh exhibited recently the only known pair of soldiers vases bearing the coat-of-arms of Francisco José de Ovando y Solis at the TEFAF Maastricht (2017).
This service is also illustrated by Jorge Welsh & Rocio Diaz in Chinese Armorial for Spain (Jorge Welsh Books, London and Lisbon, November, 2010, n. 10, pp. 130-133), with a cup from the V&A and a plate from a private collection.
Pieces from this porcelain service are presently in the Museo Nacional de Artes Decorativas (Madrid), the Victoria & Albert Museum (London), The Museo Historico de Acapulco – Fuerte de San Diego (see, Porcelain de la Compana de Indias para Mexico, exhibition catalogue Instituto national de Antropologica, Historia Mexico City, 2002, p. 74), and in private collections.
A plate is illustrated by Jean McClure Mudge in Chinese Export Porcelain in North America (1986, p. 81).
A plate was published by Cohen & Cohen and William Motley in Tyger Tyger! (London, 2016)
Another plate was exhibited by Luis Alegria at the TEFAF Maastricht (2017).
Notice
Born in Cáceres in Spain, José de Ovando y Solís, 1st Marquis of Ovando (1693-1755), took part in the War of the Spanish  Succession (1701-1714), siding with Austrians. He decided on a career in the military and enlisted in the Regiment of the Crown, and later in the naval battalions. He soon became a renowned naval officer and was appointed Chief Inspector of the South China Sea in 1743. Two years later he acted as Governor of Chile, and in 1749 married María Bárbara de Ovando y Rivadeneyra (1732-1772) in Puebla de los Ángeles, New Spain. Having arrived in Manila in 1750, he then served as Governor General of the Philippines until 1754. He died in the Gulf of California during his return voyage to New Spain, in 1755.
This plate comes from the first service ordered for Francisco José de Ovando y Solis, 1st Marquis de Ovando. This set was probably ordered after he was appointed governor of the Philippines and had arrived in Manila in 1750. Two services bearing his arms are known to exist.