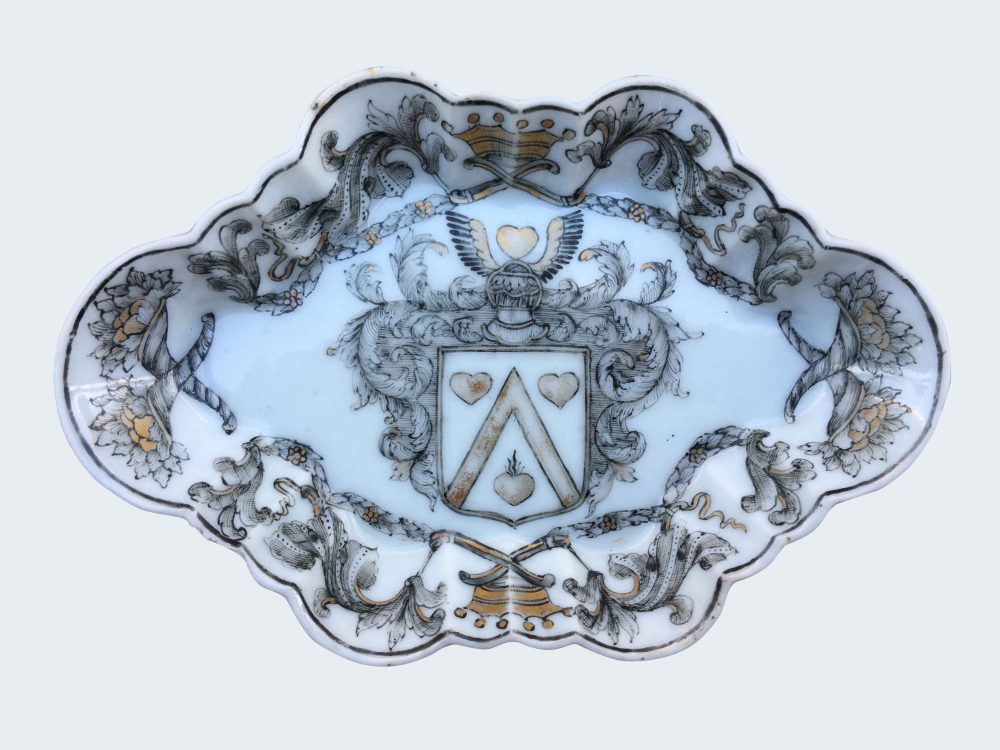 A Chinese "En grisaille" armorial pattipan for the Dutch market. Qianlong period.
Of scalloped form and decorated "en grisaille" in the Du Paquier style and gilt, with the coat of arms of the Derde (de) family, an enhanced chevron with two hearts above and a flaming heart beneath, the crest a similar heart between a pair of wings.
Country:

China

Period :

Qianlong (1736-1795), circa 1740-1745

Material:

Porcelain

Dimension:

4.92 in. (12.5 cm)

Reference :

A55

Status:

sold
Provenance
From a private European collection
Related works
Pieces from this service are illustrated by Dr J. Kroes in Chinese Armorial Porcelain For The Dutch Market, p. 261, no. 173.
Two services decorated En grisaille, with exactly the same arms but with a different decoration on the rim, are known.
Notice
These arms are those of the Derde (de) family from Middelburg. They were born for the first time in 1740 (1722 according to Steenkamp) by Abraham de Derde, a member of the Blacksmiths'Guild of Middelburg, in the following colours : on a silver background a blue chevron with three red hearts, the lower one flaming gold, the crest a flaming heart (rather than a normal heart as on the porcelain).
Abraham de Derde from Middelburg, who made several voyages to the Orient in the 1730's and 1740's, must have commissioned this porcelain set. As far as is known, his first voyage to Batavia was in 1736-1737 as a third surgeon on the East Indiaman Dishoek followed by his second recorded voyage on the East Indiaman Wickenburg in 1739-1740. Then he was second surgeon and he arrived in Batavia on 8 june 1740. His wages were very modest at H F L  14 a month as third surgeon and H F L  24 a month, as second surgeon, yet nevertheless he would have ordered this armorial porcelain during those years, about 1740. In 1750, Abraham was recorded for the last time as a first mate. He was probably the son of the forementioned Abraham de Derde who recorded his coat of arms as a member of the Blacksmith's Guild in 1740.