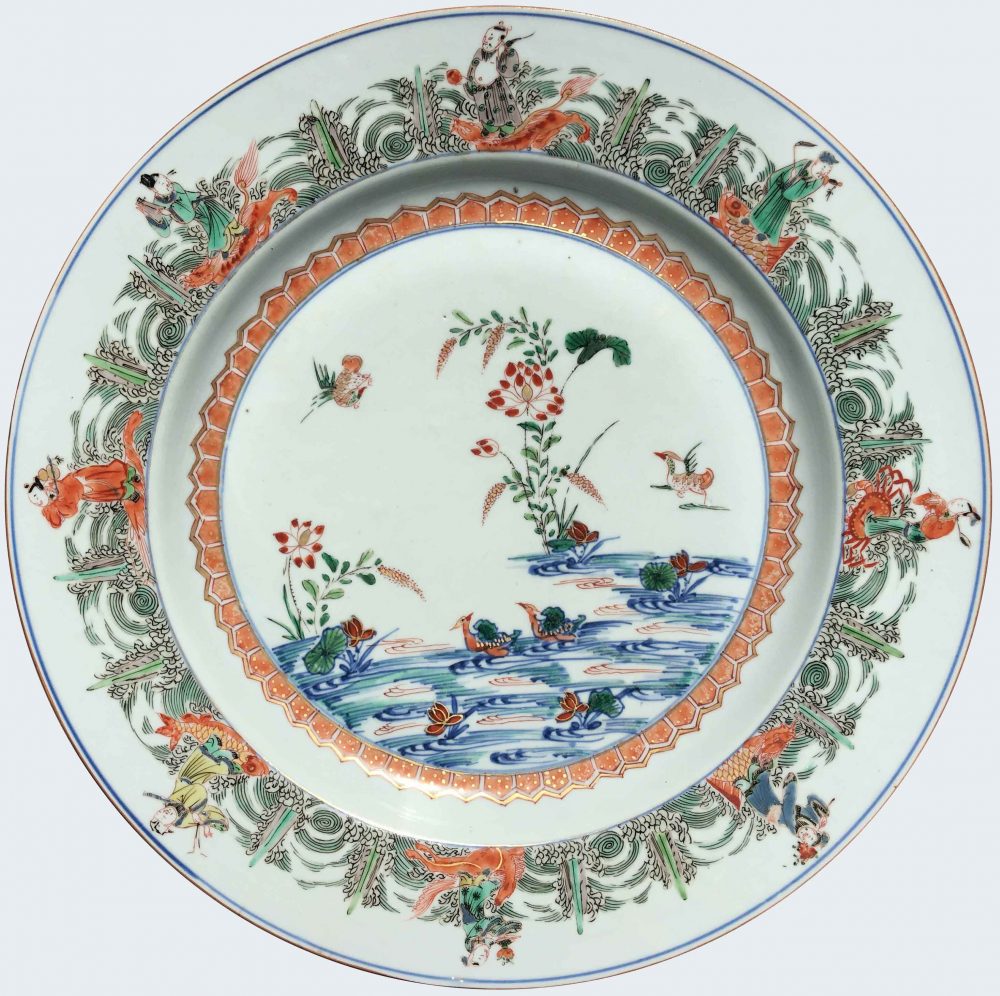 A Chinese famille verte "mandarin ducks" charger. Kangxi period
Painted and gilt with a central medallion depicting mandarin ducks in a lotus pond, within a border of the Eight Daoist Immortals riding upon mythical beasts amongst foaming waves.
Country:

China

Period :

Kangxi (1662-1722), circa 1720

Material:

Porcelain

Dimension:

13.77 cm (35.5 cm)

Reference :

B359

Status:

sold
Provenance
Accorsi Pietro Antichita Via Po 55, Torino
Related works
An identical dish, from the collection of Samuel Putnam Avery Sr., purchase by subscription in 1879, is in the collection of the Metropolitan Museum of New-York (accession number 79.2.1288).
A dish, from the collection of the China Trade Museum (Milton, USA), is illustrated in the catalogue of the exhibition Yang-ts'ai, the foreign colors : Rose porcelains of the Ch'ing dynasty (February 12 through June 27, 1982).
A plate is illustrated in Yamanaka & Company – Collection of Chinese and Other Far Eastern Art Assembled by Yamanaka & Company, Inc. Now in Process of Liquidation Under the Supervision of the Alien Property Custodian of the United States of America, New York : John B. Watkins, Co., 1943, no. 997.
For a plate, see Christie's London, Chinese Ceramics and Works of Art, 14 november 2003 lot 299.
For a pair of plates, see Christie's London, 7 november 2012, lot 650.35.