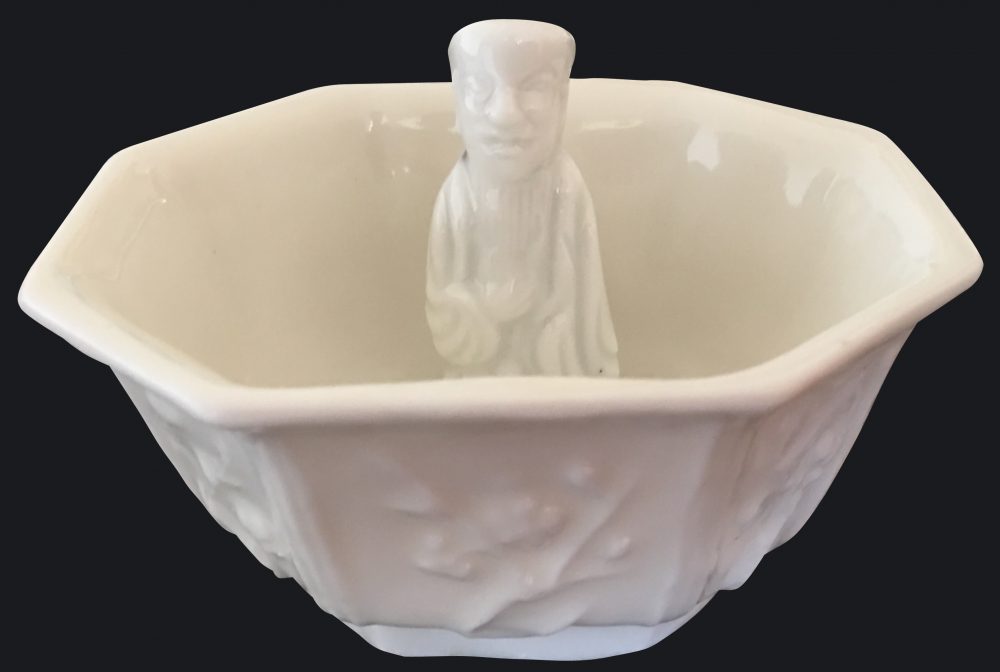 A Chinese Blanc de Chine surprise cup with a figure of an immortal. Kangxi period.
With a hexagonal form, decorated with moulded branches of prunus on the walls, with the figure of an immortal, probably Cao Guojiu.
Country:

China, Dehua, Fukian province

Period :

Early Kangxi (1662-1722), 17th century

Material:

Porcelain

Reference :

B270

Status:

sold
Related works
An identical cup, from the Collection of Marie Vergottis, is held on at the Fondation de l'Hermitage at Lausanne and is published by John Ayers in The Chinese Porcelain Collection of Marie Vergottis, 2004, p. 61, no. 34.
For tricks cups and a description of how they work see Chinese Puzzles, Games for the Hands and Mind, Traditional Chinese Puzzles from the Yi Zhi Tang Collection (Wei Zhang and Peter Rasmussen, Chinese Culture Center of San Francisco, 2008, pp. 76-77.
Notice
The essence of the surprise was that, to the amusement of his companions, and because of a concealed hole in the bottom, the drinker would spill the liquid over himself.