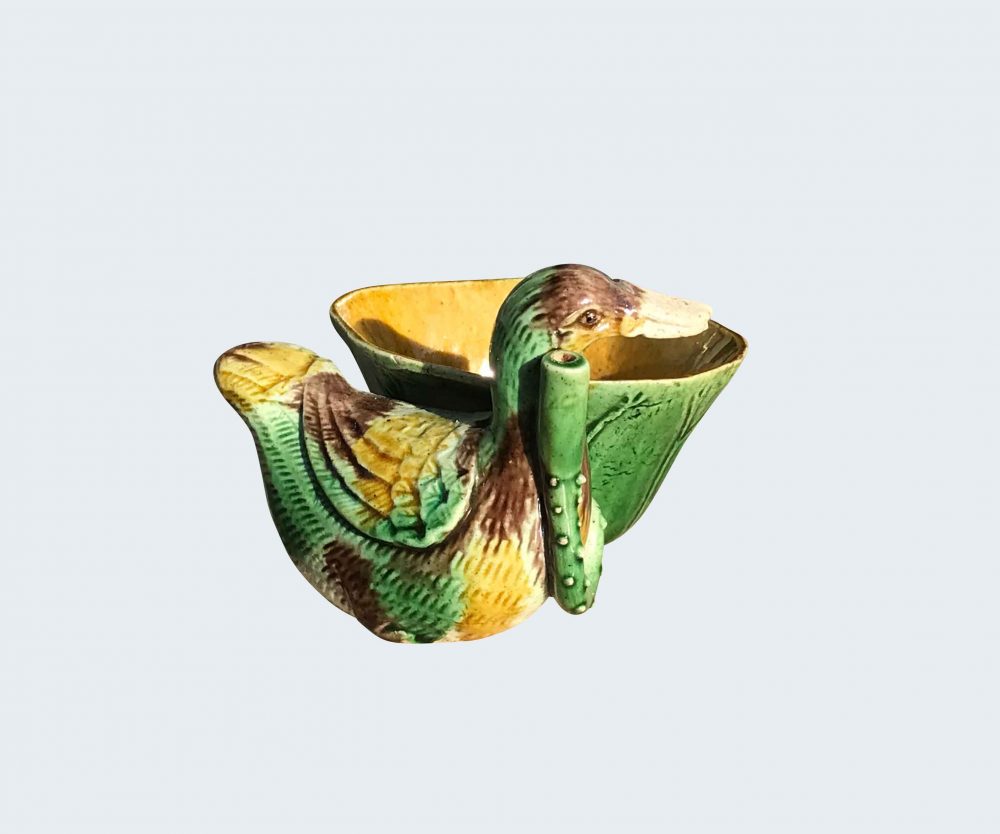 A Chinese "duck and lotus" water dropper decorated with famille verte enamels on the biscuit. Kangxi period
The water dropper modelled in the form of cupped lotus leave, the knobbly hollow stalk rises up against the body of a floating duck that is attached to the leaf, water passes through the stem – to control the water flow as it is dropped onto ink. The mandarin duck glazed on the biscuit in a combination of brown, yellow, and green (known as 'egg and spinach'), the beak is left unglazed, and the lotus leaves glazed green on the exterior – with one yellow, the other green on the interior.
Country:

China

Period :

Kangxi (1662-1722)

Material:

Porcelain

Dimension:

2,5 in. (6.5 cm)

Reference :

B926c

Status:

sold
Related works
For a similar piece, see William R. Sargent, The Copeland Collection, Chinese and Japanese Ceramic Figures, The Peabody Museum of Salem, 1991 – no.7.
Similar ducks were also in the A&J Speelman collection (London), in the Anthony de Rothschild Collection or presently in the Fitzwilliam Museum (Cambridge) or in the Marie Vergotis Collection (Lausanne).
Another model of duck is also published by Jorge Welsh in Biscuit – Refined Chinese Famille Verte Wares, 2012, London, pp. 128-129.
Notice
The duck and lotus motifs are frequently combined as a symbol of marital bliss. Ducks mate for life, and the lotus flower (hehua or lianhua) symbolizes marriage – he being a homophone for 'harmony,' and lian a homophone for 'continuous'. Depicted together, these motifs traditionally express an archaic wish – for the marriage to be blessed with sons!