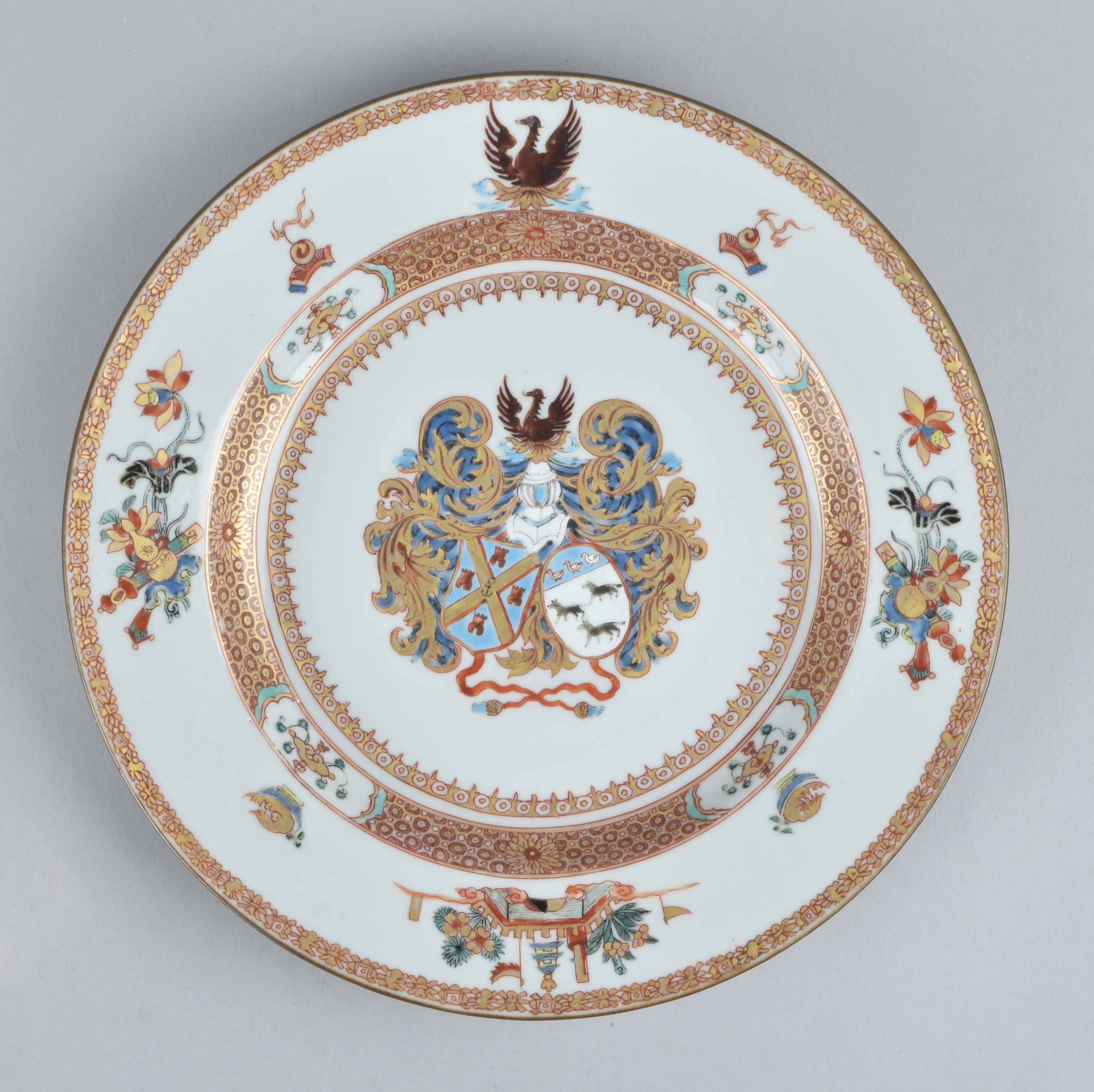 A Chinese armorial plate for the Dutch market (Neufville). Yongzheng period.
Decorated in polychrome enamels, on the outer rim of the plate there is a narrow band of flowerheads and leaves enamelled in rouge de fer, blue, yellow, black, and gold. On the rim there are two large lotus sprays together with various Chinese symbolic figures, such as a jar and a small landscape with a pagoda, a bridge, a flag and flowers and four small dishes with twice a flaming, pearl, and twice a Buddha's hand or finger citron, with the crest of a rising bird above. At the cavetto, there is honeycomb diaperwork with single blossoms and four reserves with flowers have been painted on the rim. In the center, the coat of arms of Neufville (de) and Wolff (de) accollé are enamelled.
Country:

China

Period :

Yongzheng

Material:

Porcelain

Dimension:

8.66 in. (22 cm)

Reference :

D757

Status:

sold
Related works
Severals pieces from this service are presently in museums (Princessehof Leeuwarden, inv.no.BP3498. ; The Rijkmuseum in Amsterdam, inv.no.AK-NM-13417 ; British Museum in London).
Dr. J. Kroes illustrates a plate and a coffee cup from this service in Chinese Armorial Porcelain for the Dutch Market (2007, pp. 125 – 126, cat. no. 27a).
A pair of plates was exhibited by the Antique dealer Fijnhaut at the TEFAF Maastricht (1999).
For an identical plate, see Sotheby's NYC, Chinese Export Porcelain from the private collection of Elinor Gordon, 2010, lot 185.
Notice
Members of the Neufville (de) family were very wealthy silk and textile merchants in Amsterdam in the 17th and 18th centuries. This family was interested in art, collecting painting of Dutch masters like Johannes Vermeer and Frans van Mieris.